Vancouver Wedding Vacation – Day 1
My friend since University, Chris Isobe, is getting married! Huzzah! And he is getting married in Vancouver. Keren and I decided to make it a 6 day vacation and arrive early so that we can enjoy the time without children.
Without the children! This is the first time she and I have gone away for this long. My heart palpitates.
The last time I had been to Vancouver was for work about 10 years ago. Keren had a chance to explore the city, and I got the chance to explore one street. But now we could be together. Without children. Let me reiterate:
Without the children!
The flight was approximately 4 hours or so. Keren watched cooking shows while I read The Girl With the Dragon Tattoo. Since it was on my iPad, the steward was chastising me on how completely unaware I am of my surroundings. Books do that to me.
In fact, I was so engrossed in my book, that when we were waiting for the luggage, I missed them. By the time we noticed, the luggage … thingy… what is that called anyway? You know, the conveyor belt? Luggage conveyor belt thing. Well, it was empty. And we had to go to the luggage department and sheepishly pick them up.
We took the skytrain to Vancouver downtown. I think it's called downtown west. Or entertainment district. It was cool though; the skytrain deposited us about three blocks from our hotel. And without the children…
NO CHILDREN!
…Without them, our luggage was light. How amazing is that?
Our hotel is a small little Ramada inn near Yorkdale. The elevators are slow, and the decor reminds me of Bioshock. I mean, not underwater like, but an older 1940's feel. I think. I have no idea, I glean all that type of knowledge through movies and video games, so who knows.
There are six pillows in our bed. They are thick and fluffy. Unless I need to be fully supplied during a pillow fight, I have no idea why there needs to be this many pillows in the bed. And the sheets? I think they nail them to the underside so you can't pull them up. But the room is nice.
That night, we went across the street to the closest chinese restaurant: Tsui Hang Chinese Restaurant. It was cheap, and I got rice noodles. I love rice noodles.
We were exhausted so Keren went to bed after that. I finished my book. It was late by the time I was done. I won't admit to how late, just in case Keren reads this.
The next morning, we went to some place called the White Spot for breakfast. It was a bit pricier than I expected because it was attached to a hotel. We're not doing that again, just for a few eggs and no internet!
And then it was off to do some exploring. We went northwest towards Stanley Park. Keren was immediately drawn to these status of happy asians. Who could blame her?
She loved those statues. Once she got her fill of asian poses we went into the park. Well, not yet, actually. We just walked northwards not realizing we hadn't hit the park yet. But it was by the water so Keren wasn't complaining.
Then we ran into blackberries. There were thousands of them and Keren couldn't keep herself from picking them. She yearned for some container so that she could go back home and bake some pies. And if you think I'm kidding, then you don't know Keren.
Once we had walked for about a kilometer we came to another info sign. We realized we hadn't entered the park yet, but it was almost lunch and I had a destination in mind. Instead of going right into the park, we skimmed the bottom of it, making our way towards the lost lagoon. There, we found many trees. And raccoons. I took pictures of the Keren as she lumbered through the forest. Reminded me of that old yeti pic. But don't tell her I said that.
After our communing with nature, we went to a Starbucks. The barista made me some Iced Green Tea with some extra shots of… some flavour… and it was great. I needed Starbucks because I needed internets to get my bearings because I was trying to find THE restaurant.
As I mentioned earlier, I had been to Vancouver 10 years prior, and I ate at one restaurant every day: The HON. In fact, I ate only one dish, which I forgot.
AND THERE IT WAS! HUZZAH! I was so happy. I ordered the Beef Brisket on rice, but I don't think that's what I got 10 years ago. I must try again.
After our lunch continued walking. I need a compass, I never know which way is north. In Toronto, I just find the CN tower. But I don't know how to get my bearings in Vancouver. Keren saw an Open House at Christ Church Cathedral. We went in and Keren posed by some artwork of old pipe organs.
And then we made our way to the Visitor Information Center. We wanted to do something free and within walking distance. They informed us to continue onwards towards Gastown and Chinatown.
On the way, I saw this dim sum express cart. How cool is that?
After a few minutes walk, we made it to Gastown. There is probably some reason why it's called Gastown, but I wasn't really into researching these things, especially if it destroyed my image of Vancouver's wild and under played steampunk. Those were good times. I hope my new steampunk glasses arrive. I hope they look steampunkish. I digress.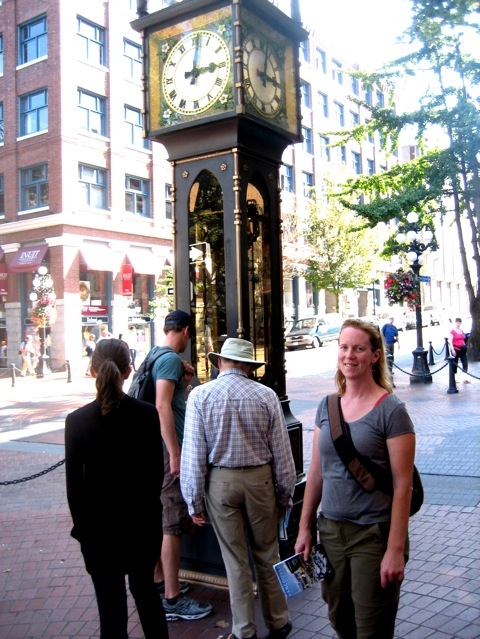 After not finding any icecream, we made our way into Chinatown. Keren wanted to explore her asian heritage so we stopped off at a cultural center. There she wandered the gardens while I continued to snap pictures.
I particular liked the pictures of her in the bamboo forest reenacting famous Wuxia sword fights. She didn't have swords, nor did she do any fighting, but otherwise a valient effort.
We then went to see a movie because we were tired and wanted to sit. We saw "The Help". I was impressed that the theatre wasn't overly inclined, yet no seat blocked the view of the screen. Very nice. I would have taken some pictures, but I didn't want to perpetuate any stereotypes of asian movie bootlegging.
After that, we walked home. We took a picture under a bridge.
We were finally home, but as we cut through Yorktown, or York-something, we came across this restaurant that was also a wine bar and a painting gallery. You pay depending on canvas size, and you can paint acrylics for as long as you like. Keren was entranced. It was very cool, and there was a resident artist there to give you pointers.
It was getting late, almost 7 And we hadn't had supper yet! So we stopped at the first Indian restaurant we could find because I was craving Saag Paneer. They had Palak Paneer and that was good enough for me!
It may look nasty, but I love the stuff. Combo dish came with dahl and naan! Although the naan wasn't all that great. Ah well. And the difference between Saag Paneer and Palak Paneer? I have no idea. You guys can enlighten me. It seemed the same. I've had it at other places where it wasn't the same.
And that concluded our night! We were exhausted. It was only about 8 or so, but that's 11pm for you guys.
I wonder what we'll eat tomorrow!