Vancouver Wedding Vacation – Day 2
It's 1:00pm EST. Here, it is only 10 in the morning. That means, if I had still been in Toronto, I would have slept in till 12! Huzzah! That never would have happened at home because of those little spawnlings! Poor kids are probably all lonely.
Oh, we passed a girl handing out samples of lattes at Benz. It's a very popular coffee shop here. I had a pic of it, but it's blurry. Although, there still seems to be more Starbucks around. I normally would prefer to drink at a non-Starbucks place, but they have free internets. I can't resist the internets.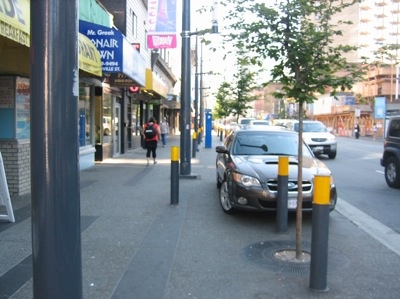 They don't have much room on the streets here, so it seems they just park on the sidewalk. This is good, I guess. I'd probably hit those poles if I tried to park.
We saw a small Asian, greasy spoon near the hotel, and decided on that for breakfast. It's called Grade "A" Steaks & Seafood Restaurant Ltd. If that name doesn't drum up the desire to dine, nothing will. The coffee is kinda bland, and the prices aren't that much cheaper. But they have onions (costs extra) in the hash browns! Brilliant! They were SOOOO good. Why don't people do that?
Now you may be thinking that I am somewhat frugal. Cheap. If you've read the last blog, you've seen how much we've eaten out. We can't be spending too much money at one place, you know!
Greasy spoon clientele seems to be universal. Older, grizzled gentlemen either widowed or unable to be widowed sit alone and haggard at the tables. Each probably have a fascinating story to tell. Probably as fascinating as my stories. Of course, I wouldn't sit and listen to me, that would be a bore indeed.
It was decided by the powers that be (aka Keren) that we should go to Granville Island. We were told by the tourist agency that we should not take the bridge but take a small water cab over. On our way to the island, we crossed the bridge we were not supposed to cross and completely missed the water cab.
The strange thing about the bridge was that it seemed to be a major highway. However, when we crossed at the indicated crossways, the cars would stop for us! There were no lights, there was no indication that we were crossing other than our frail and weak little bodies. Very cool.
Before we entered the gateway to the island, Keren wanted to take a picture of the marina. There was an older fishmonger there that reminded me a bit of Unhygienix. He was topless, save for a black apron, and he wore a protective glove on his left hand as he sliced up the fish. The most amazing thing for Keren, however, was soon to come. As the fishmonger cut up the fish, he would toss it to the seagulls, and then he threw a huge piece into the water. As soon as he did, this large, spotted mass came and gulped it up. Too small to be a fish, she studied it and to her utter delight, it was a seal.
She was more excited than she was about the blackberries. She had never seen a seal before in real life, so to see one fed by the friendly fishmonger made her day. After this experience, she was ready to pack it in. However, there were stores to check out on Granville Island, so we continued.
One shop that was cool was called Dragon Space but they would not let people take pictures in there. Sad. I have a LOT of friends that would love this store. It's filled with dragons, faeries, celtic stuff, etcetera. Why can't I take pics? What was I going to do? Take the photos home, draw them, and then sell it on ebay? There was a bench outside that had no "DO NO PHOTOGRAPH" sign on it. So we took photos of it.
We made a stop near the Kid's market. Toys, games, all sorts of things were in this building, but this toy particularly caught my eye. How cool is THIS?? I want one.
It was soon lunchtime, and Keren felt like some fish, so we made our way along a small marina. An artist was balancing rocks. And, of course, Keren found more berries.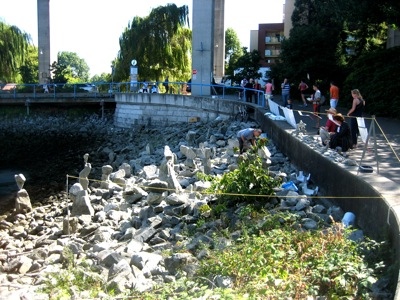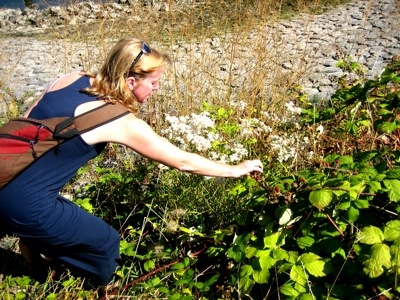 There was a huge lineup near a small shack called Go Fish. That seemed good enough for us and we got in line. She ordered the Salmon and chips, while I ordered the Halibut and chips. Very good, albeit the wait was forever.
After lunch, we decided to continue along the coast, away from Granville Island, towards the museums.
She eventually stopped by a beach and enjoyed the water and shells.
I, on the other hand, had to go number 2.
I first checked out the Maritime museum, but it cost money to get in. I walked further up to the Museum of Vancouver. The place was pretty much empty, but I spied a washroom sign. I was so happy.
I don't know if I was supposed to pay, but I kept my attention buried in my phone and just walked down the stairs to the bathroom. I took pictures, but they were blurry, sadly. Bathrooms are a great way to catch up on texting too.
Anyway, once done, I went back and sat under a tree. I could see Keren way off in the distance so I texted her. She couldn't see me though, because I have elite ninja skills.
She was checking if there was a ferry that could take us back so that we wouldn't have to risk the scary bridge again. That thing was huge. Fortunately, there was a little passenger ferry that came every fifteen minutes. We waited by the beach. Keren found some more blackberries again.
Once we got back, we walked along the shore as the sun started to set.
Finally, Keren got fed up with all the walking. I was confused, I thought that she LIKED the walking! She liked the walking if we also did stopping, relaxing, and environment appreciating. I like stopping and relaxing too, but I like it when it's done on the inside. She likened it to a forced march. That reminded me of Lord Of The Rings but we definitely weren't going at a pace that would be considered a leisurely stroll, let alone a march.
Anyway, we sat on a bench and rested. It was near the statues of the happy asians. I uploaded pics to my iPad to pass the time.
Once we felt rested, or maybe I was the one feeling rested and Keren was just feeling sorry for me, we started walking again and I wanted ice-cream. I saw a shop and we went in. After about three minutes in line, we noticed the prices. $6 for a single. We went out to the place next door that had gelato and bubble tea. I got a taro bubble tea, and then both Keren and I got a cream puff. My camera was getting low on battery power so I charged it for a bit too. The place was called something weird, like Bearded Mister or something. I dunno.
When we finished our snack we walked north and I noticed a library! Great time for resting, I uploaded and formatted more pictures while Keren found a book to purchase in the used book rack and she read. I did check for free Internet and there was! But you needed a library card number. Pity. After a while, they started to flash the lights. At first, I thought it was someone playing but they continued to do it and soon they announced it was closing time.
We got up, did a bathroom break, and continued our journey. Keren, all this time was searching for a sketchbook. Even though on Grenville Island there were artist shops galore, she couldn't find anything. When we passed a Chapters, she wanted to go in and I found a chair. She got a small sketchbook with a cartoon elephant, so all was well and we decided to get some food.
Keren noticed Lush store and thought that it would be great to get some bath stuff. I certainly wasn't disagreeing to my wife in a bath, so stock up on the bath balls! Huzzah!
We were almost home and I was wanting some sushi, so we were on the lookout for any Japanese restaurant. We couldn't find one for a few blocks, which shocked us, but our patience was rewarded, and we found a place that was having a sushi special! $6.95 for 18 pieces. She got a chicken Teriyaki Bento box, while I got a spicy salmon roll, a tofu roll, and a yam tempura roll.
Sadly, I was full. I don't know why, but I only ate half. So sad.
My feet hurt now. Wow, we walked for a long time. Keren is red. She burns easy. I probably should be rested for the wedding as opposed to gallivanting about town. Tomorrow I have to go get the tux. I don't even know where. I hope I find that out soon!